Kaufman Rossin ranked among IPA's 2021 top 100 firms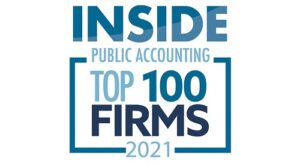 Kaufman Rossin, the largest independent accounting and consulting firm in Florida, has been ranked by Inside Public Accounting (IPA) among its list of Top 100 firms.
IPA's list recognizes top U.S.-based public accounting firms, based on firm's net revenues. Kaufman Rossin ranked 57th in the country – and first in Florida – with a net revenue of $92.5 million for the year ended May 31, 2021. The ranking data is gathered through IPA's annual practice management survey and analysis of participating firms. Over 500 public accounting firms participate in the survey each year.
"We are thrilled to be recognized among respected peers in the public accounting space," said CEO Blain Heckaman, CPA. "Our continued commitment to our people and to excellent client service have propelled our success."